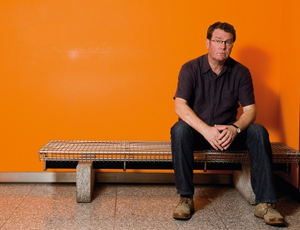 Vaughan Oliver
(born 1957) is a British graphic
designer
based in Epsom, South of London. Oliver is most noted for his work with graphic design studios 23 Envelope and v23. Both studios maintained a close relationship with record label
4AD
between 1982 and 1998 and created distinct visual identities for many bands on the label, including Cocteau Twins, Dead Can Dance, The Breeders, This Mortal Coil, Pale Saints, Pixies, and Throwing Muses.
Designing Album Covers
23 Envelope consisted of Vaughan Oliver (graphic design and typography) and Nigel Grierson (photography). Together, they created the artwork for almost all 4AD releases until 1987. Nigel Grierson left 23 Envelope in 1988. At that time, Vaughan Oliver continued to work for 4AD under the studio name v23, collaborating with Chris Bigg, Paul McMenamin, Timothy O'Donnell, Tim Vary, Adrian Philpott, Simon Larbalestier, Marc Atkins and others. Most admired for his collaborative energy and imagination, Oliver had thus set the stage for the graphic revolution of the 1980s and 1990s. His impact on the post-punk music industry is still celebrated, as is his influence on a generation of designers exploring the possibilities of type and print.
In 1994, many of those that had collaborated with Vaughan Oliver over the previous decade contributed to an illustrated catalogue for the retrospective exhibition of his work held at the Pacific Design Center in Los Angeles, This Rimy River. Recollections of the v23 design experience were provided by individuals such as v23 collaborator Chris Bigg, design writer Rick Poynor, and art critic Ian McKay who frames Oliver's work in a fine art context. Like so many publications produced by v23, the catalogue quickly became a collectors item.
Album Covers Designed by Vaughan Oliver
Community content is available under
CC-BY-SA
unless otherwise noted.